PUGILISM ALL DRESSED UP AT THE OLYMPIC
When the fabulous Los Angeles Olympic Auditorium opened its doors to the public on August 5, 1925, it was one of the most gala events of its time. The concrete structure located at the corner of 18th Street and Grand Avenue had a distinct air of class which pervaded it. Measuring 260' by 162', it had one huge ground floor, which sloped gradually away from the boxing ring in the center, and an enormous balcony which stretched diagonally away in every direction toward the roof. There were no pillars, and every one of the 15,300 seats had a perfectly clear and unobstructed view of the arena. It felt like a boxing arena. Except for the first 17 rows, the fans sat in seats which had been steeply tiered from the lower floor to the balcony, so that a spectator could always see over the person in front of him.
The program that evening consisted of five six round fights, preceded by bands, speeches, and presentations. Just about everybody who was anybody was there, including past and present boxing champions, motion picture stars, politicians, and society matrons. The referees were clad in dress suits, and the bejeweled spectators in upholstered chairs were similarly dressed, making the event look more like a grand opera than a prize fight.
Contrary to what may have been reported much later, Newsboy Brown did not fight Young Nationalista that night. A copy of the card, from the Los Angeles Times of August 5, 1915, is shown below.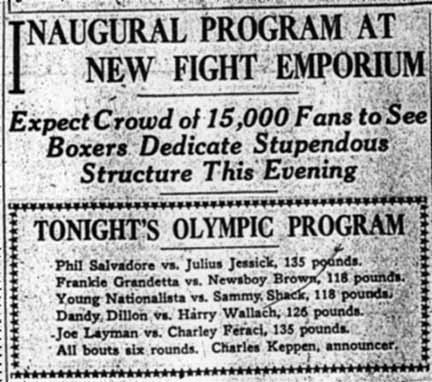 Young Nationalista fought Sammy Shack, and Newsboy Brown fought Frankie Grandetta. Brown, who was described by one reporter as looking like a small edition of a piano mover, pasted Grandetta's split eye and took the decision.
Newsboy Brown went on to fight many more bouts in the Olympic Auditorium, where he became a local favorite over the next decade. In the ensuing years, the Olympic hosted scores of world championship fights and attracted such celebrity boxing fans as Al Jolson, Barbara Stanwyck, Steve McQueen, Sylvester Stallone and James Caan.
The central location of the Auditorium in downtown Los Angeles enabled fans to come from all over by car or, in the early days, street car. Once inside, the spectators in the balcony might play cards and talk boxing while waiting for the first event. The smell of hot dogs and mustard wafted through the air. "That Olympic had the magic," said one fight fan and former boxing promoter. "It was steamy in there and it was boxing like the guy said-down and dirty . . . with those tight, little dressing rooms with the low ceilings. You almost felt claustrophobic." It was an atmosphere conducive to yelling and getting involved. That atmosphere, he said, is missing at modern facilities like the Forum and other citadels of "yuppie boxing."
When the Olympic was not being used for boxing it was the set for the original "Rocky" and "Requiem for a Heavyweight" movies, and it gathered in hundreds of thousands of wrestling and roller derby fans. Briefly, it even served as a home for USC and UCLA basketball.
But as time went on the grand old auditorium fell into a state of disrepair. Writing in 1987, a reporter for the Los Angeles Times observed that the dressing rooms at the Olympic Auditorium looked like the inside of a World War II bunker and the rest of the arena was in no better repair. And so for more than seven years the only surviving major American arena built expressly for boxing remained boarded up.
Eventually, in 1994 an Eastern lawyer named Bob Arum had it renovated and brought boxing back to it. It reopened on March 5, 1994 with a card including a championship match in which Oscar De La Hoya, America's only boxing gold medalist at the 1992 Olympics, won his first pro title with a 10th-round knockout of World Boxing Organization junior lightweight champion Jimmi Bredahl.
---
Front Page / Biography / Photo / Opponents / Fidel La Barba / Corporal Izzy Schwartz / Frankie Genaro / Midget Wolgast / Panama Al Brown / Small Montana / Opening of the Olympic Auditorium / Memorable Fights / Brown vs. La Barba / Brown vs. Schwartz / Brown vs. McCoy / Newsboy Brown vs. Al Brown / Flyweight Champions

Copyright © William B. Shubb, 1998. All rights reserved.