Fidel La Barba
---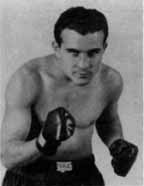 The son of Italian immigrants, Fidel La Barba was born in New York City on September 29, 1905. Shortly thereafter, his family moved to Los Angeles, where, like Newsboy Brown, Fidel as a boy sold newspapers. He learned to fight on the street corners and was discovered at age 14 by manager George Blake. He was a sensation as an amateur, winning top honors in the flyweight division at the national Amateur Athletic Union tournament in Boston.
La Barba won a gold medal in boxing at the 1924 Olympics in Paris. He turned professional that same year while still attending high school. His third professional fight was a four round bout against Hall of Fame fighter Jimmy McLarnin. The referee awarded the fight to McLarnin, even though two of the three judges had given the fight to LaBarba. In a rematch, La Barba held McLarnin to a draw.
On August 22,1925, La Barba took the American Flyweight crown away from Frankie Genaro in a convincing 10 round decision. After successfully defending his title against Georgie Rivers in Los Angeles on July 8, 1926, he fought an exciting 10 round exhibition bout against Newsboy Brown in Los Angeles on October 5, 1926, which ended in a draw. In 1927, he knocked Elky Clark down five times and took all twelve rounds to win the World Flyweight championship. Seven months later, never having defended his world title, La Barba retired to enter Stanford University.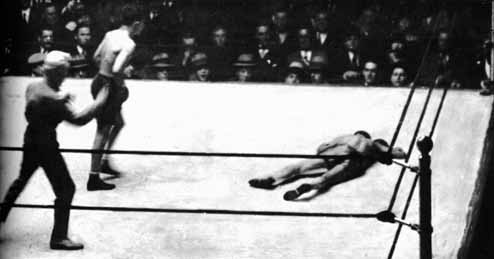 Fidel La Barba knocks down British champion Elky Clark in the first round with a blow to the jaw.
Less than a year later, however, he returned to seek the featherweight crown. He won his first five fights, and in 1931 split two decisions with Kid Chocolate, but he lost the decision for the World Featherweight championship in a hard fought 15 round bout against Battling Battalino on May 22, 1931. After suffering a torn retina in a fight against Kid Chocolate for the New York featherweight title on December 9, 1932, La Barba lost the fight in a close decision. He eventually had to have the eye removed.
In 1933, he quit the ring and went back to Stanford, where he earned a degree in journalism. He worked as a sportswriter before entering the Army in World War II. He later worked in public relations, as a screenwriter, and as a technical advisor in Hollywood for boxing movies.
Fidel La Barba died in Los Angeles, California at the age of 76 on October 3, 1981. He was never knocked out.
---
Front Page / Biography / Photo / Opponents / Fidel La Barba / Corporal Izzy Schwartz / Frankie Genaro / Midget Wolgast / Panama Al Brown / Small Montana / Opening of the Olympic Auditorium / Memorable Fights / Brown vs. La Barba / Brown vs. Schwartz / Brown vs. McCoy / Newsboy Brown vs. Al Brown / Flyweight Champions

Copyright © William B. Shubb, 1998. All rights reserved.