Newsboy Brown vs. Panama Al Brown
---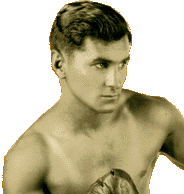 Newsboy Brown, veteran of many a ring battle, achieved one of his greatest triumphs, and also provided one of the season's fistic upsets, on December 15, 1931 when he defeated "Panama" Alphonse Brown, bantam champion of the world, in a 10 round thriller at the Los Angeles Olympic Auditorium. No title was at stake, however, because both fighters were over the 118 pound bantamweight limit, the Newsboy going in at 120 ½ pounds, while the Panama boxer weighed 122.
Giving away almost a head in height to the gangling Panamanian, and 4 inches in reach, the Newsboy turned in a fine performance, outscoring his opponent with stinging rights and lefts to the body. Although the Panamanian drew several cautions for head butting during the melee, he also showed flashes of sterling offensive work with hard rights, but the Newsboy always came back to give more than he received.
Newsboy Brown assumed and maintained the aggressor's attitude from start to finish. It took him one round to size up the situation. Then he moved into close quarters, beating his two fists mightily to the champion's midriff. The Newsboy took the second, third, and forth rounds handily. In the fifth, Al Brown managed to land several stiff rights, looping punches that caught the Newsboy by surprise. Again in the seventh and eighth rounds the champion rallied with fury to beat his smaller opponent back and bombard him with punches.
They came to the tenth and final round on fairly even terms. But the Newsboy went whaling away, tore right into the Panamanian and bombarded him viciously about the stomach, now and then crossing things up with snappy left hooks to the chin. In the end, referee Harry Lee passed by the outstretched arm of the surprised champion and hoisted the arm of the fighting Newsboy of Boyle Heights. A sympathetic crown cheered his victory to the echo. The Newsboy had taken 6 rounds to the champion's 3, with one even.
---
Front Page / Biography / Photo / Opponents / Fidel La Barba / Corporal Izzy Schwartz / Frankie Genaro / Midget Wolgast / Panama Al Brown / Small Montana / Opening of the Olympic Auditorium / Memorable Fights / Brown vs. La Barba / Brown vs. Schwartz / Brown vs. McCoy / Newsboy Brown vs. Al Brown / Flyweight Champions

Copyright © William B. Shubb, 1998. All rights reserved.