Newsboy Brown vs. Spider Pladner
On Wednesday, August 17, 1932, Newsboy Brown met former California, British and NBA flyweight champion Emile "Spider" Pladner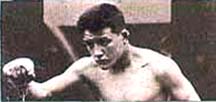 Emile Pladner

in Montreal, Canada. The programme for that event is shown above. The preliminary bouts consisted of Jimmy Thompson vs. Rene Taillefer, Barney O'Connell vs. Joe Marciente, Harold Stewart vs. Eddie Valentine, and Roland Lecuyer vs. Al Brown.

Although the fight went the twelve round distance, the Newsboy lost the decision to the Frenchman. Brown would fight professionally only three more times before finally hanging up the gloves the following year.
---
Front Page / Biography / Photo / Opponents / Fidel La Barba / Corporal Izzy Schwartz / Frankie Genaro / Midget Wolgast / Panama Al Brown / Small Montana / Opening of the Olympic Auditorium / Memorable Fights / Brown vs. La Barba / Brown vs. Schwartz / Brown vs. McCoy / Newsboy Brown vs. Al Brown / Brown vs. McCoy / Newsboy Brown vs. Speedy Dado /Flyweight Champions

Copyright © William B. Shubb, 1999. All rights reserved.