Baby Arizmendi
---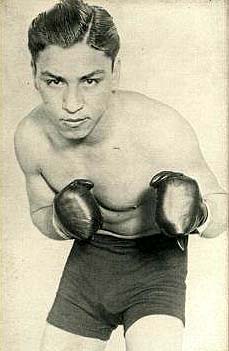 Alberto "Baby" Arizmendi was born in Tamaulipas, Mexico on March 17, 1914. He began his professional boxing career in San Antonio, Texas, when he was only 13 years old. After several bouts in San Antonio and in Mexico City, on January 1, 1932 he chalked up an impressive decision against Fidel La Barba, at El Toreo in Mexico City, followed by a decision against Speedy Dado the following month at the Olympic Auditorium in Los Angeles. Arizmendi lost one to Dado in March, but took a decision against Young Tommy in April. This led to two fights at the Olympic against Newsboy Brown on June 7 and June 28, 1932. Arizmendi took the first one, but Brown took the second.
After a victory against Tommy Paul in Mexico City on September 16, 1932, Arizmendi met Newsboy Brown for the third time, this one for the for the Featherweight World Championship as recognized by the California Athletic Commission. Brown won only one round of that fight held at the Olympic Auditorium in Los Angeles, and was on the verge of being knocked out in three or four different rounds. The Associated Press called it as follows: "Displaying all the speed and agility of his Aztec ancestry, the brown idol of Old Mexico and Little Mexico alike, decisively whipped his Los Angeles Jewish opponent here last night before 7,000 persons." It was their last fight against each other. Brown would retire after only two more fights
Arizmendi went on to fight 76 more bouts after that, accumulating a record of 70 wins (12 by knock out), 26 losses, and 13 draws. His professional career spanned three decades, from 1927 to 1942. The featherweight boxer, who made his home in Los Angeles, died on New Year's Eve, 1962, at the age of 48.
---
Front Page / Biography / Photo / Opponents / Fidel La Barba / Corporal Izzy Schwartz / Frankie Genaro / Midget Wolgast / Panama Al Brown / Small Montana / Opening of the Olympic Auditorium / Memorable Fights / Brown vs. La Barba / Brown vs. Schwartz / Brown vs. McCoy / Newsboy Brown vs. Al Brown / Flyweight Champions

Copyright © William B. Shubb, 2005. All rights reserved.