Newsboy Brown vs. Frankie Novey
NEWSBOY BROWN GOES TO FRESNO
© William B. Shubb, 2003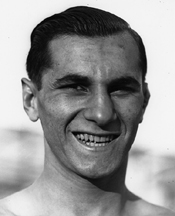 Newsboy Brown

To the professional boxer all towns are the same. There's the hotel and the gym, maybe a couple of restaurants, and of course the auditorium. That's all. Ask the fighter two weeks later what the town was like, and he won't be able to distinguish it from the dozens of others he had been to. So it was, when Newsboy Brown went to Fresno.

Although he probably hadn't kept count, in the four short years preceding March of 1926, Newsboy Brown had fought more than 25 professional bouts in at least ten different cities across the midwestern, eastern, and western United States. After beginning his prizefighting career in his home town of Sioux City, Iowa, the young newsboy made his first big out-of-town appearance in San Antonio, where he fought two matches against Kid Pancho in 1924. Then followed an east coast tour through New York, Boston, Pennsylvania and New Jersey.

By 1925, he had married and settled down in the Boyle Heights area of Los Angeles, where he was fast becoming a local favorite. Almost like clockwork, once a month he would fight at the Legion Stadium in Hollywood or the newly opened Olympic Auditorium in Los Angeles. One of those fights, on April 17, 1925, happened to be against Fidel LaBarba. Brown fought LaBarba to a draw. Later that year, on August 22, 1925, La Barba won the flyweight championship from Frankie Genaro. From then on, Brown was considered the natural contender for LaBarba's crown. His sights were on a Los Angeles title fight.

But if you are Russian-born Jewish kid who started fighting on the streets of Sioux City in order to compete for a corner to sell newspapers, boxing is not just a sport. It's the way you make your living. So when your manager says your next fight is in Fresno, that's where you go.

If Newsboy Brown had known more about Fresno, he might have liked it. It didn't have the glamour and glitz of Los Angeles or Hollywood, but this little farming community in the San Joaquin Valley of California was not a lot unlike his hometown of Sioux City. A good fight town. Hardly a day would go by when there weren't several stories on the sports pages the local newspaper, The Fresno Bee, about local fights and fighters. In fact, one of the local boys, welterweight Young Corbett III, was the pride of the city. Yes, Fresnans knew their boxing and appreciated quality pugalism when they saw it.

Not so long before, LaBarba had appeared at a Fresno theater, and fans who watched his work were much impressed. It was Newsboy Brown, declared LaBarba at that time, who had the best chance to take the flyweight title. LaBarba's manager, George Blake, when he was in Fresno with LaBarba, had also confirmed that Brown was the boy that had to be licked in order for a flyweight champion to hold the title.

American Legion boxing promoter Phil Williams knew that Fresno fight fans were always eager to see championship contenders in action. Newsboy Brown was a real contender for the flyweight title and was sure to draw a crowd. A good crowd at the auditorium translated into a good purse for Brown. The newsboy's New York based manager, Leo P. Flynn, apparently agreed, and Brown was signed to fight in Fresno.

For his opponent, Williams chose Frankie Novey, a rugged young fellow who started fighting while he was in the Army at Mather Field in Sacramento during World War I. Touted as a crack battler who had been taking down a lot of boys who weighed more than he did, Novey had not yet been knocked down, and had recently forced Clever Sencio, rated by many of the ring experts as a second Pancho Villa, to extend himself to the limit to get the decision.

In fact, Novey had won less than one out of every three of his fights before this one. In contrast, Brown had lost only one of his previous fights. But Novey was known as a hard hitter, who kept tearing in all the time and knew plenty about the game. So the fight promised to be one of those speedy scraps, with every round filled with action that makes the fans jump up and howl about every other second.

Williams' predictions proved true, and the Brown-Novey fight, billed as the main event on the card of March 2, 1926, prompted one of the biggest three-day advance sales in the history of the local American Legion.

It had been less than a month since Brown had KO'ed Young Nationalista in the sixth round at the Legion Stadium in Hollywood, and his mind was on a title bout with LaBarba. But a fighter does what his manager and trainer tell him. You have to trust them to do what is right for you. So the newsboy packed his bags for Fresno.

For most out-of-town engagements, you get there a few days before the encounter, with your trainer and corner men. For the 220 mile trip from Los Angeles to Fresno, you can go either by train or automobile. Either way the trip takes a day up and a day back.

Brown and his handlers always stayed in a nice hotel and ate well on the road. This trip was no exception. Once there, however, it was all business. It had to be. Although Brown didn't consider Novey to be a serious threat to his quest for the flyweight crown, Novey had been pooh-poohing Brown's claim to a crack at the title and bragging that after he finished with Brown he would be thinking about something besides titles. Brown's focus had to be on winning this fight. The purse became secondary.

No matter how many times you fight, there are always those butterflies in your stomach while you are waiting in the dressing room for your fight to be called. With three good fights on the card before his, this time the wait seemed longer than usual. The semi-windup between junior lightweights Willie Buff of Los Angeles and Wildcat Evasco of Sacramento seemed to go on forever. At last, he heard the final bell. The announcer declared Evasco the winner, and Buff paraded to his dressing room amid the boos of the fans. As it did before every single fight, Brown's adrenaline began to pump.

He strode from his dressing room, surrounded by his corner men, to the cheers of the crowd, and entered the ring. The fans applauded as the announcer introduced Dave Montrose, fighting under the name of Newsboy Brown, from Los Angeles, weighing in at 112 pounds. He heard the crowd, but his attentions were now zeroed in on the man facing him in the ring -- the man immediately standing between him and a shot at the flyweight championship of the world. "Shake hands now," the referee said, "and come out fighting."

From the starting bell, Brown had Novey puzzled throughout the fight. According to all accounts, he had Novey outclassed in every round, and he landed punches on Frankie's body and head at will. Brown seemed to have a stiff punch, and while he shook Novey up and staggered him once in a while, he was unable to keep the boy from Sacramento from coming back for more of the same.

Novey made a big hit with the crowd that night by his aggressive gameness. He was a rugged, mauling type of scrapper, constructed and operating somewhat like the old-time Battling Nelson.

Brown appeared anxious to knock Novey out. Apparently, he figured it would boost his stock in the campaign for a crack at the title, and it would have, but he just couldn't put the little ex-soldier down. In order to put Novey flat on the canvas, an opponent would have to be either pretty lucky or pack a better punch than Brown was able to muster that night.

Brown won the eight-round decision, showing plenty to convince the crowd that he was a real contender. He was the best boxer to be seen in Fresno for a long time.

The next day, Brown was on his way back south to Los Angeles, and Novey was headed back north to Sacramento. Two months later, Newsboy Brown would be in the ring in Pasadena fighting Johnny Godinez. Later that year, he would get his crack at Fidel LaBarba. (To learn the results, go to the Brown vs. LaBarba page.)

If you asked him then to describe Fresno, he would probably tell you it was just like any other town he had been to. But if you asked the fans who saw him fight that night to describe Newsboy Brown, you can be sure they wouldn't tell you he was just like any other fighter they had seen. That's just the way it goes.



---
Front Page / Biography / Photo / Opponents / Fidel La Barba / Corporal Izzy Schwartz / Frankie Genaro / Midget Wolgast / Panama Al Brown / Small Montana / Opening of the Olympic Auditorium / Memorable Fights / Brown vs. La Barba / Brown vs. Schwartz / Brown vs. McCoy / Newsboy Brown vs. Al Brown / Flyweight Champions

Copyright © William B. Shubb, 2003. All rights reserved.