The Brown-Curry Bouts
---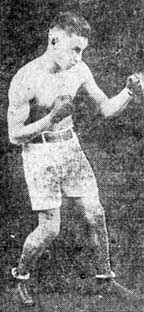 Connie Currie

Newsboy Brown at age 17

Newsboy Brown's first recorded fight was against Connie Curry in Sioux City on February 7, 1922. It was undoubtedly not the first time either opponent had fought professionally though. In those days it was difficult to distinguish between an amateur fight and a professional one. The first time young Davie Montrose had fought for money was probably on a Sioux City street corner when the local newsboys collected coins from passersby to watch two of them slug it out.

Brown and Curry fought officially before Sioux City boxing fans at least five times. Curry had become a local favorite after working with Jack Dempsey during his vacation at Great Falls, Montana when the champion was preparing to defend his world heavyweight title against Tommy Gibbons on July 4, 1923. Curry had even scored a big defeat over Pat Moore, a bantamweight who had beaten several champions in his weight classification.

Montrose, fighting under the moniker of "Newsboy Brown," was managed by Johnny Lynn, and even at the age of 17 had acquired a reputation as a cool ring general with a good punch in either hand.

By the time of their fourth official matchup, neither fighter had scored a decisive victory over the other. When they fought at the Veterans Auditorium in Sioux City on June 23, 1923, Curry was hoping for a win in order to further his chances of taking on some major contenders in Chicago during the coming year. Brown also hoped a decisive win would mean good matches for him with some of the best boys in the division.

As with their three previous fights, however, the June 23, 1923 bout resulted in "no decision." But the following year, in what was at least the fifth time the two boys had fought, in Omaha Nebraska, Brown finally scored a ten round decision over Curry.

---
Front Page / Biography / Photo / Opponents / Fidel La Barba / Corporal Izzy Schwartz / Frankie Genaro / Midget Wolgast / Panama Al Brown / Small Montana / Opening of the Olympic Auditorium / Memorable Fights / Brown vs. La Barba / Brown vs. Schwartz / Brown vs. McCoy / Newsboy Brown vs. Al Brown / Flyweight Champions

Copyright William B. Shubb, 2001. All rights reserved.