Panama Al Brown
---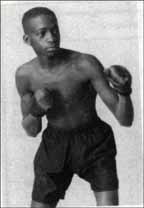 Alfonso Teofilo Brown was born in Colon, Panama on July 5, 1902. In his youth, he was employed as a clerk with the United States Shipping Board in the Canal Zone. There he observed boxing matches between U. S. military personnel. Deciding to give it a try himself, he had a highly successful amateur career. He was tall and thin, standing 5' 11' and weighing only 112 to 126 lbs. Known as the "Elongated Panamanian," he had an amazing reach of 76 inches and surprising punching power.
He turned professional at the age of 20 and won the Isthmus flyweight title in his third fight by defeating Sailor Patchett. Manager Dave Lumiansky of New York then took him to the United States, where he was unbeaten in his first 17 fights and ranked by The Ring as the third best flyweight in 1924. By 1926, he had moved up to bantamweight and was ranked sixth.
After fighting for a year in Paris and compiling a 6-2-1 record, he returned to the U. S. to challenge Vidal Gregorio for the vacant world bantamweight championship in Queensboro Stadium in Long Island City on June 18, 1929. Before a crowd of 15,000, Brown handily took the title in 15 rounds. He successfully defended it an impressive ten times over the next six years against Johnny Erickson in New York in 1930, Eugene Huat in Paris later in 1930, Pete Sanstol in Montreal in 1931, Eugene Huat again in Montreal later in 1931, Kid Francis in Marseilles in 1932, Emile Pladner in Toronto later in 1932, Domenico Bernasconi in Milan in 1933, Johnny King in London later in 1933, and Young Perez in Paris and again in Tunisia in 1934.
Panama Al Brown eventually lost his bantamweight title to Baltazar Sanchilli in a 15 round decision in Valencia Spain in 1935. He kept fighting after that, mostly in Paris and New York, until he returned to Panama. He retired and came back twice, before retiring in 1942. He died of tuberculosis in New York in 1951 at the age of 49. To see his impressive career record, click here. With a lifetime professional record of 123- 18-10, he scored a total of 55 knockouts against his opponents but was never KO'd.
---
Front Page / Biography / Photo / Opponents / Fidel La Barba / Corporal Izzy Schwartz / Frankie Genaro / Midget Wolgast / Panama Al Brown / Small Montana / Opening of the Olympic Auditorium / Memorable Fights / Brown vs. La Barba / Brown vs. Schwartz / Brown vs. McCoy / Newsboy Brown vs. Al Brown / Flyweight Champions

Copyright © William B. Shubb, 1998. All rights reserved.