Frenchy Belanger
---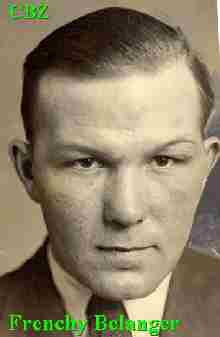 Canadian Flyweight Albert "Frenchy" Belanger was born in Toronto, Ontario, on December 4, 1906. His first ten round bout was against Newsboy Brown at the Coliseum in Toronto on October 28, 1927. Belanger scored two nine-count knockdowns in the fourth round and took the decision easily from the Newsboy. Brown was cautioned for hitting when told to break; twice in the ninth and once in the tenth he was warned for kidney punching.
The very next month, on November 28, 1927, he defeated Frankie Genaro in an NBA eliminator bout at the Toronto Coliseum. Between 12,000 and 13,000 were in attendance --the largest indoor crowd in Toronto history to that date. This win gave him the right to meet Ernie Jarvis for the vacant flyweight title. The following month, on December 19, 1927, again at the Toronto Coliseum, Belanger defeated Jarvis to capture the World Flyweight Title as recognized by the National Boxing Association. In Toronto's first world title bout in 20 years Belanger floored Jarvis in the first round and was knocked down himself in the 11th.
Belanger lost the title to Frankie Genaro on February 6, 1928, but in his first bout after a two month layoff he won the Canadian Flyweight championship in a fight against Clovis Durand on April 27, 1928. Later that year, on October 15, 1928, he lost a bid to regain the world title from Genaro. He lost another bid to capture the World Flyweight title from Corporal Izzy Schwartz in Toronto on March 12, 1928, but on April 13, 1929, he took the Canadian Flyweight title from Harry Hill. Hill was knocked down eight times--for a three count in the first round, six and seven counts in the second round, a six count in the third round, an eight count in the fifth round, saved by the bell, and a two count in the sixth round, and the final toll -- before the towel was tossed into the ring. Belanger gave Hill the worst beating a boxer of class had received in a Toronto ring in years. (Hill claimed that he had never been knocked out in 400 bouts.)
Belanger was given one more chance for the World Flyweight title in a fight against Frankie Genaro at the Toronto Colisuem on June 10, 1930. After losing that, he retired two years later. In his professional career, he won 42 fights (15 by knockout), lost 19, and drew 9. He died at the age of 62, on May 27, 1969.
---
Front Page / Biography / Photo / Opponents / Fidel La Barba / Corporal Izzy Schwartz / Frankie Genaro / Midget Wolgast / Panama Al Brown / Small Montana / Opening of the Olympic Auditorium / Memorable Fights / Brown vs. La Barba / Brown vs. Schwartz / Brown vs. McCoy / Newsboy Brown vs. Al Brown / Flyweight Champions

Copyright © William B. Shubb, 2005. All rights reserved.